Quantum Pitch Competition 2021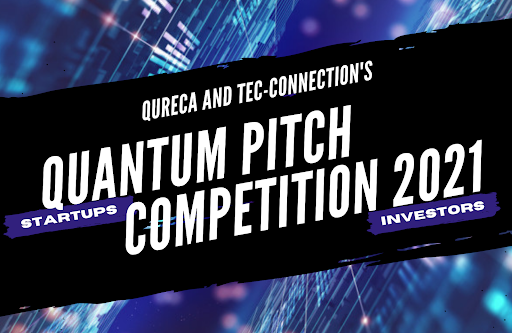 Qureca and tec-connection are teaming up to host the Quantum Pitch Competition 2021.
Interaction between startups and investor communities is extremely important. That's why QURECA and tec-connection have teamed up to host the Quantum Pitch Competition 2021.
The Quantum Pitch Competition 2021 will give Quantum startups the opportunity to pitch their organisations to an audience of eager investors. The competition will be hosted virtually on the 24th of November. Startups and investors from all areas of the world are encouraged to apply.
QURECA and tec-connection hosted a similar event last year – The UK-Switzerland Investors Day. The event was a huge success. Companies who pitched at the event included: KETS, Quantum South and QuantFi. QURECA and tec-connection prior experience ensures that the Quantum Pitch Competition 2021 will be a useful and insightful day for all attendees.
"Private investors and funding agencies are key for the advancement of fundamental research to develop the technology and the market" said QURECA CEO, Dr. Araceli Venegas-Gomez. "We hope the competition will make a positive impact in the Quantum fields and lead to increased investment and new technology."
The organisers are seeking applications from startups from all quantum backgrounds, developing products and services.
Applications are also open for investors. QURECA and tec-connection are encouraging female investors and those from diverse backgrounds to apply.
Participating investors will have the possibility to directly invest a minimum of £5,000 into one of the quantum startups participating in the pitch competition.
Sponsorship and exhibitor opportunities are available for the event. To find out more fill in the application form below. Alternatively, you can contact the QURECA team by email at info@qureca.com.
The application form can be accessed here.
More information about the event can be found in the event brochure.
Event Organisers
QURECA Ltd.
QURECA provides a range of professional services, business development, and the solution to the quantum workforce skills bottleneck: the first online platform for quantum training and resourcing, to support individuals and businesses to be part of the quantum revolution.
In 2019, the Royal Society described QURECA Ltd. as the company that "fills the gaps in the existing quantum community, creating a society ready for quantum through a common language."
Website: https://www.qureca.com/
tec-connection
tec-connection helps scientific and technology teams access funding, mainly EU H2020/Europe where it has a strong track record. At the same time, they open up new opportunities for more effective, faster, better value, safer and more rewarding ways of working.
Website: http://www.tec-connection.com/